books, paper, mixed media
INTERNATIONAL CENTER FOR THE ARTS PART ONE

 Thursday 10-6-2022
Hindsight is 20/20, or at least I am hoping it is because I am freshly home from International Center for the Arts in Monte Castello di Vibio, Italy and I want to document this fabulous trip in detail. I went there for a class, The Art of Paper, taught by four of the most accomplished artists in the fields of papermaking and bookmaking, Carol Barton (Popular Kinetics), Amanda Degener (Cave Paper), Helen Hiebert (Helen Hiebert Studio), and Denice Carbone (University of the Arts). For anyone interested in this magical place, here is the link to their website: https://www.icaitaly.com/ David Voros is the director of ICA. David transitioned here from South Carolina where spent many years teaching art at University of South Carolina.
L to R: Denise Carbone, Carol Barton, Helen Hiebert, Amanda Degener                                        
Rockstars of the paper world
 Monday 9-19-2022
Each morning began with a chef prepared breakfast buffet complete with pastries, and most importantly, Italian Coffee! There were 10 of us student artists, and we were divided into two groups which made the student teacher ratio quite personal.
My first class was Pop-Up Structures with Carol Barton, author of The Pocket Paper Engineer.
Her website is https://www.popularkinetics.com/ and she also has a Wikipedia page https://en.wikipedia.org/wiki/Carol_Barton I had taken her course many years ago (2013) in Baltimore at Pyramid Atlantic, but I was overdue for a refresher.
After a beautiful four course lunch prepared by chef Katia and her assistant, Federico, I went to
my second class, bookbinding, with Denise Carbone. https://www.uarts.edu/denise-carbone This is one of the classes I had not experienced before and I learned so much about bookbinding from Denise! The first book we made was from the 14th century, called Italian Limp Leaf Binding with Nap. (A nap is a small flap on the front and back covers to protect the pages inside the book.) To begin, we folded large sheets of cotton paper and cut them into signatures. Then we sewed the signatures together with a decorative kettle stitch pattern. This stitch pattern reminded me of fancy underwear, because once the book was covered no one would see it, but I knew it was there. Secondly, we used sewing frames to attach the book block to cords. That was a lot of work to accomplish in one class, but we did it! Dinner again was a four course treat with which we were thoroughly spoiled most days throughout our stay at ICA. More about the talented Chef Katia soon.
 David Voros (photo credit Beth Stockdell) 
Carol and me back in 2013 at Pyramid Atlantic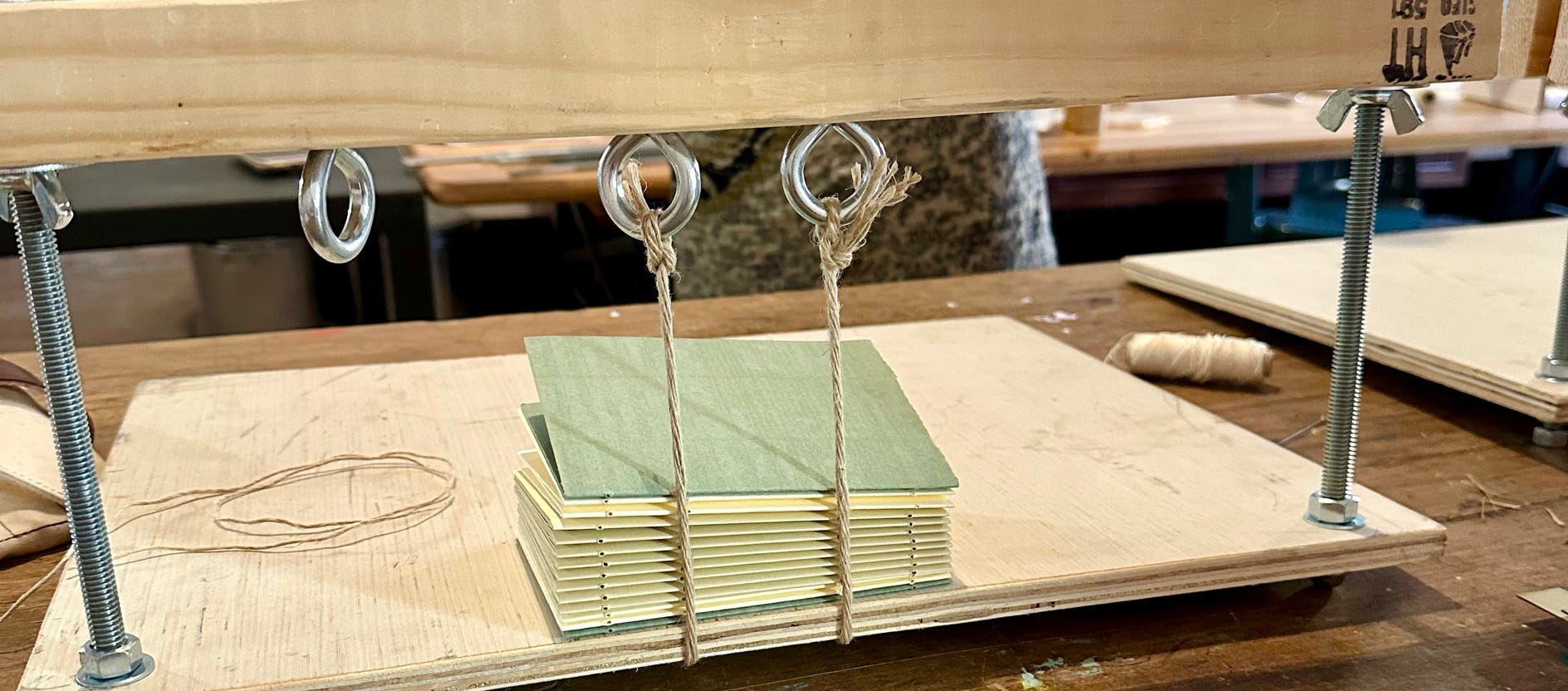 My text block ready for stitching.
Tuesday 9-20-2022
After a good night's sleep I was off to my second day of classes. We used A-day, B-day course scheduling, so I had two new teachers and two new art forms to learn. First class of the day was with Helen and we used paper weaving techniques to make a small book. Helen is another teacher I had previously studied with, but she is so full of enthusiasm and creativity any time spent with her is inspiring. If you don't know Helen Hiebert, check her out at https://helenhiebertstudio.com/ . She also hosts a very informative podcast, Paper Talk, at: https://podcasts.apple.com/us/podcast/paper- talk/id1108636248 .
Amanda Degener taught my second class of the day, papermaking. Another amazing instructor! More about her can be found through the following links: https://www.cavepaper.com/ and http://amandadegener.com/about/about.html I had made paper before on a small scale with my kitchen blender, but I wanted to know a more professional method using real equipment. This is a little funny because the school did not have a paper beater machine. One of the natural fibers we used was kozo, which we boiled in a large gas-heated kettle and then beat to a pulp using a 2x4 plank, how is that for "real equipment?" Just proves that resourcefulness and determination are major qualities of most artists.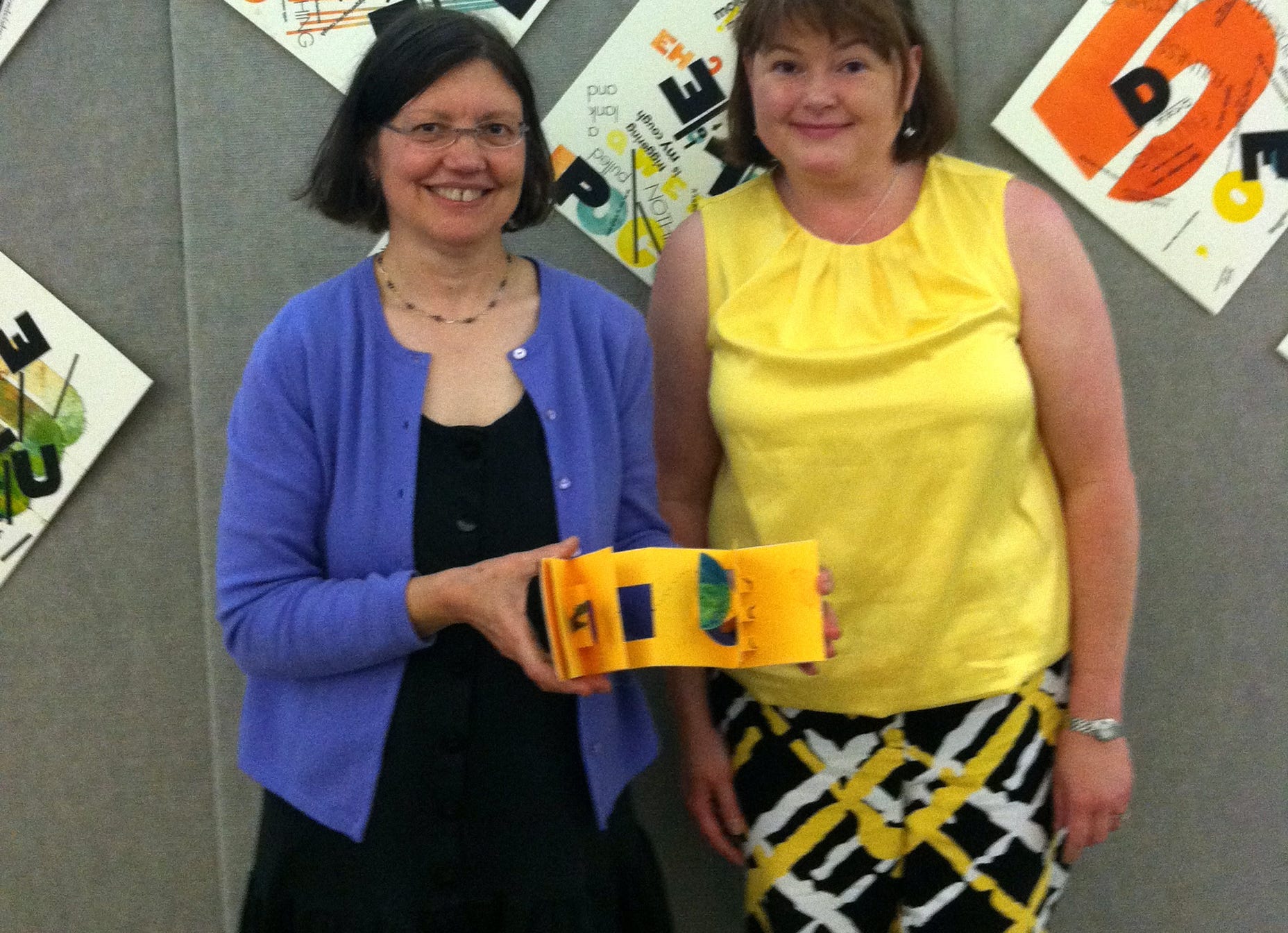 Kozo fiber ready for boiling in Amanda's class
Woven paper book cover I made in Helen's class
 Wednesday 9-21-2022
Amanda volunteered to lead a tai-chi group at 7:00 am each day. Almost recovered from jet-lag, my goal was to make it to this group this morning, however I was still too sleep-ee to make it to tai-chi. Spoiler alert – I never made it, not even once during my stay.
In Carol's class today we moved on to V- folds and platforms. In Denise's class we added covers to complete the books we began making on Monday and put them in the press to dry.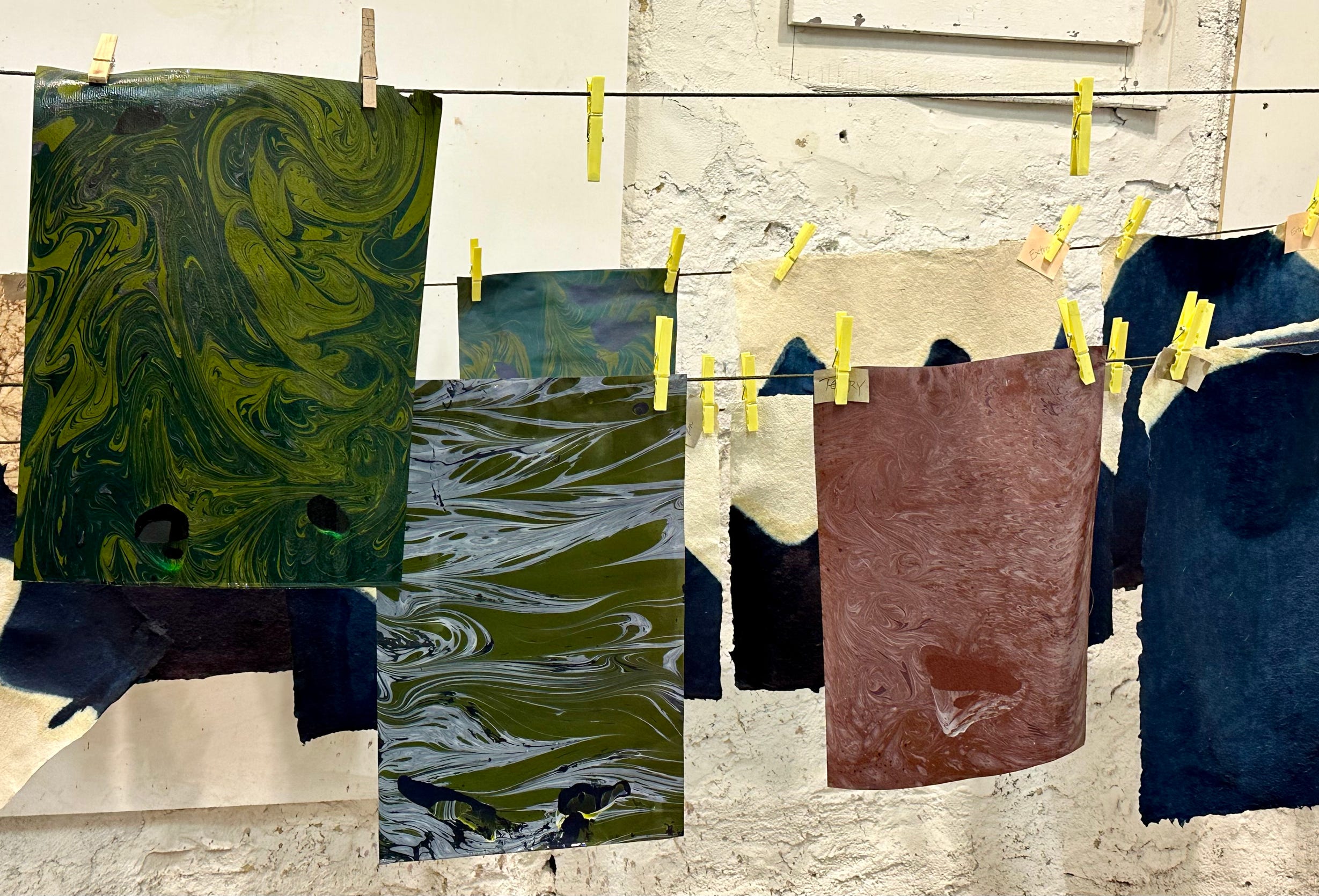 Carol showing examples of commercial pop-ups
Hand decorated papers drying in the studio
Thursday 9-22-2022
People of Monte Castello are so friendly! I look forward to my short walk to school to see their smiles and hear the chorus of "bon journo" along the way. I found the village bakery today and the rest of my trip will be so much sweeter! In Helen's class today we made two types of hinged lanterns. In Amanda's class we formed sheets of paper from abaca, pressed them, and hung them to dry. We also coated the marbled and decorated sheets (which we dyed on Tuesday) with gelatin to make them stronger. Paper making is messy, I am glad I had my waterproof shoes, apron, and gloves.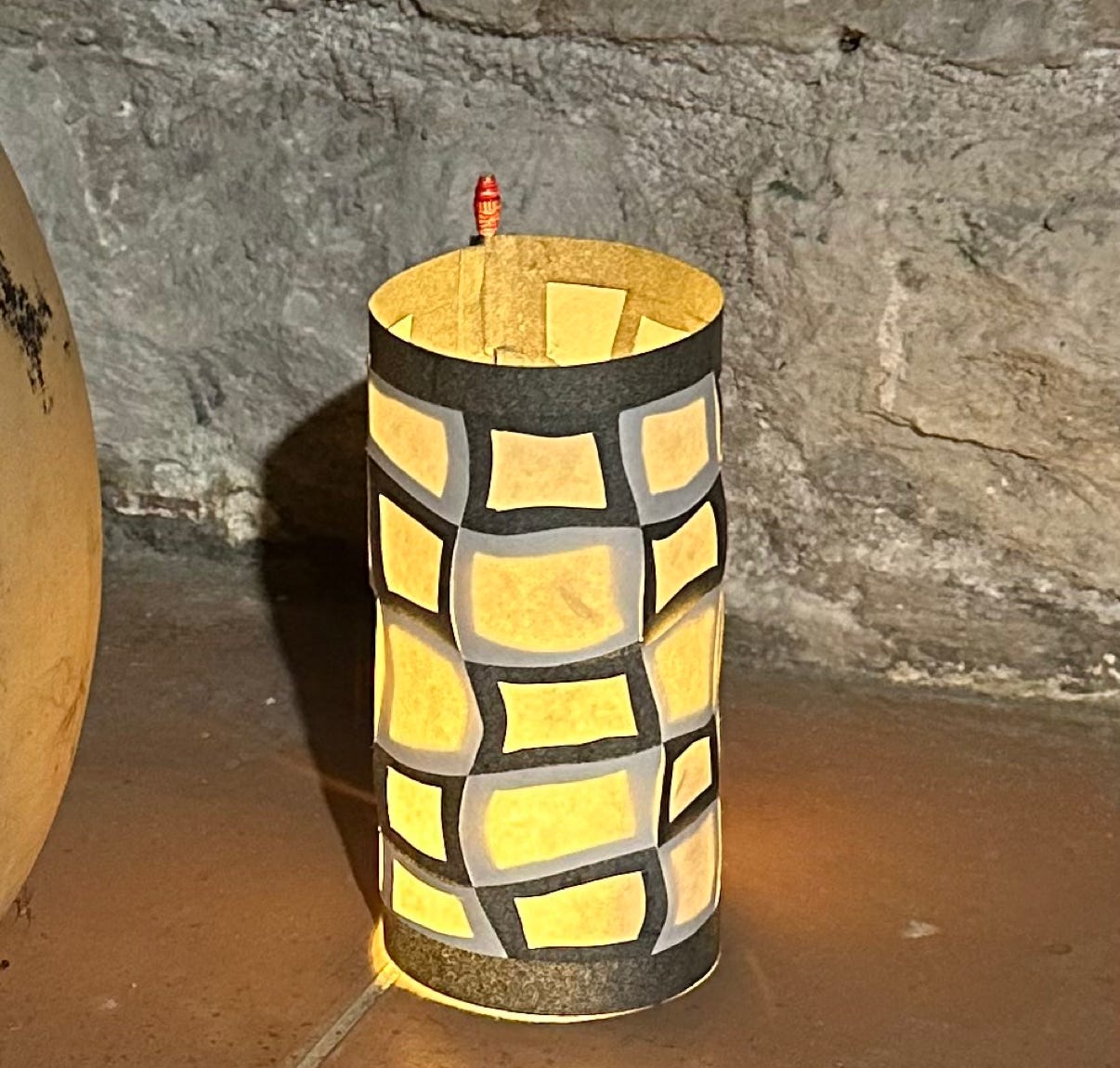 Adding a cover to the Italian Limp Leaf Binding Book Project
 Friday 9-23-2022
Friday is for field trips! Our first stop of the day was at a small church with a storied past, Santuario Madonna Dei Bagni. As the story goes, a man, whose wife was very ill, went walking through a field and the Virgin Mary appeared to him from a tree. He prayed to the Blessed Virgin for healing of his wife, and when the man returned home his wife was all better. News of this miracle spread, and people from all around started coming to this tree to pray. Eventually a church was built around the tree. Today the remains of the tree can be seen, encased in glass behind the altar. But, the story doesn't end there. People who came here to pray for their friends and family began to place plaques on the walls of the church depicting how their loved ones died. These range from being trampled by a horse, to automobile accidents. The walls of the church are covered in these plaques as seen in the picture to the right.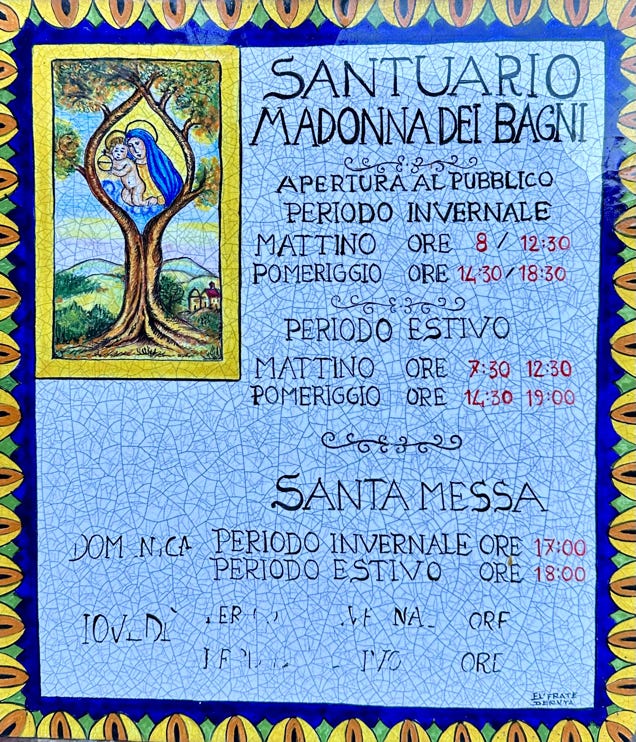 Plaques depicting how people met their demise
Onward towards Deruta for coffee and pastries before we visited the pottery studio of the Nulli family. We witnessed the skill of the artisans as pots were thrown and painted. A few of us even had the opportunity to try it for ourselves. I could not resist purchasing two beautiful coffee mugs.
 http://www.maiolichenulli.com/enhome.htm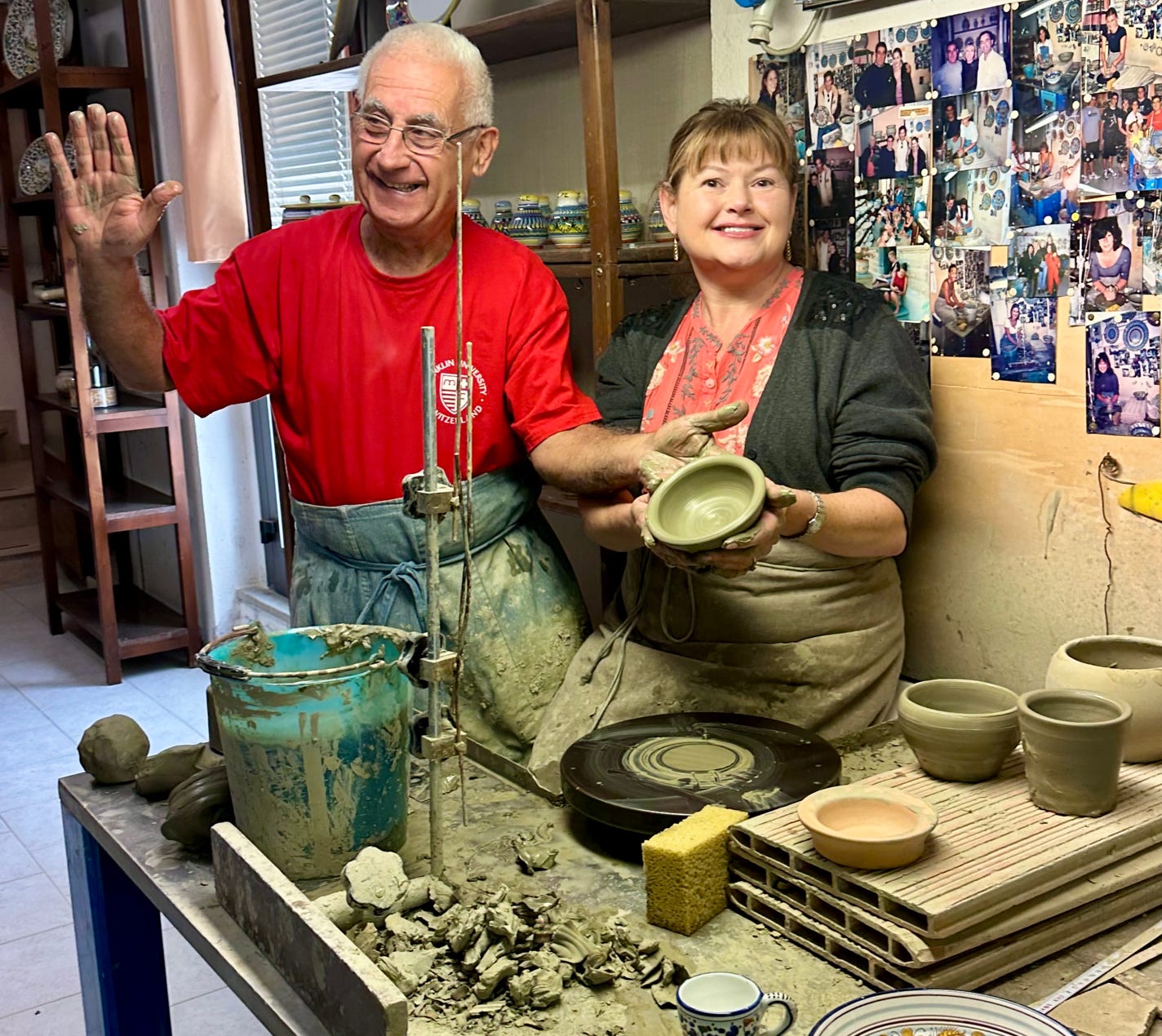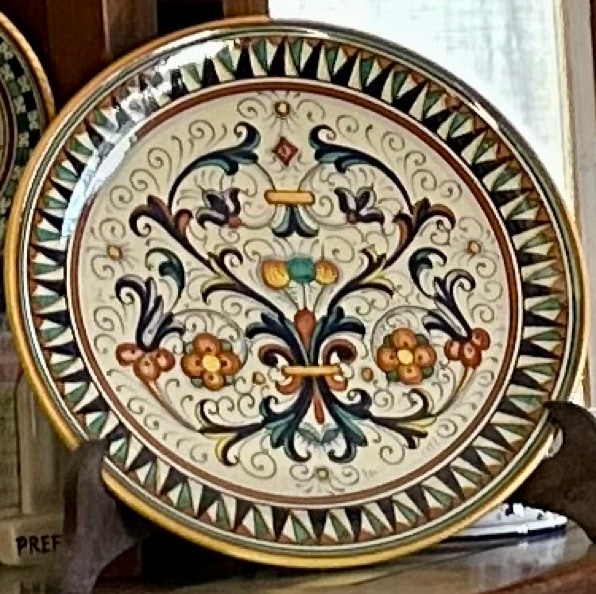 Mr. Nulli helps me as I give it a try
The highlight of today's trip for me was the Fabriano Paper Mill, which dates back to the 13th Century. https://fabriano.com/en/history/ This is the place where fine papers have been manufactured ever since. In fact, watermark technology was invented here in the 1400's. Fabriano is the paper chosen by many famous historical figures throughout the years, such as Raffaello, Michelangelo, Ludwig Van Beethoven, and Giusseppe Garibaldi to name a few. Today, Fabriano Paper Mill is a UNESCO World Heritage Site. We were given a demonstration of how paper is made by hand at Fabriano, and then we toured the museum which documented the evolution of technology in the art of papermaking and watermarking.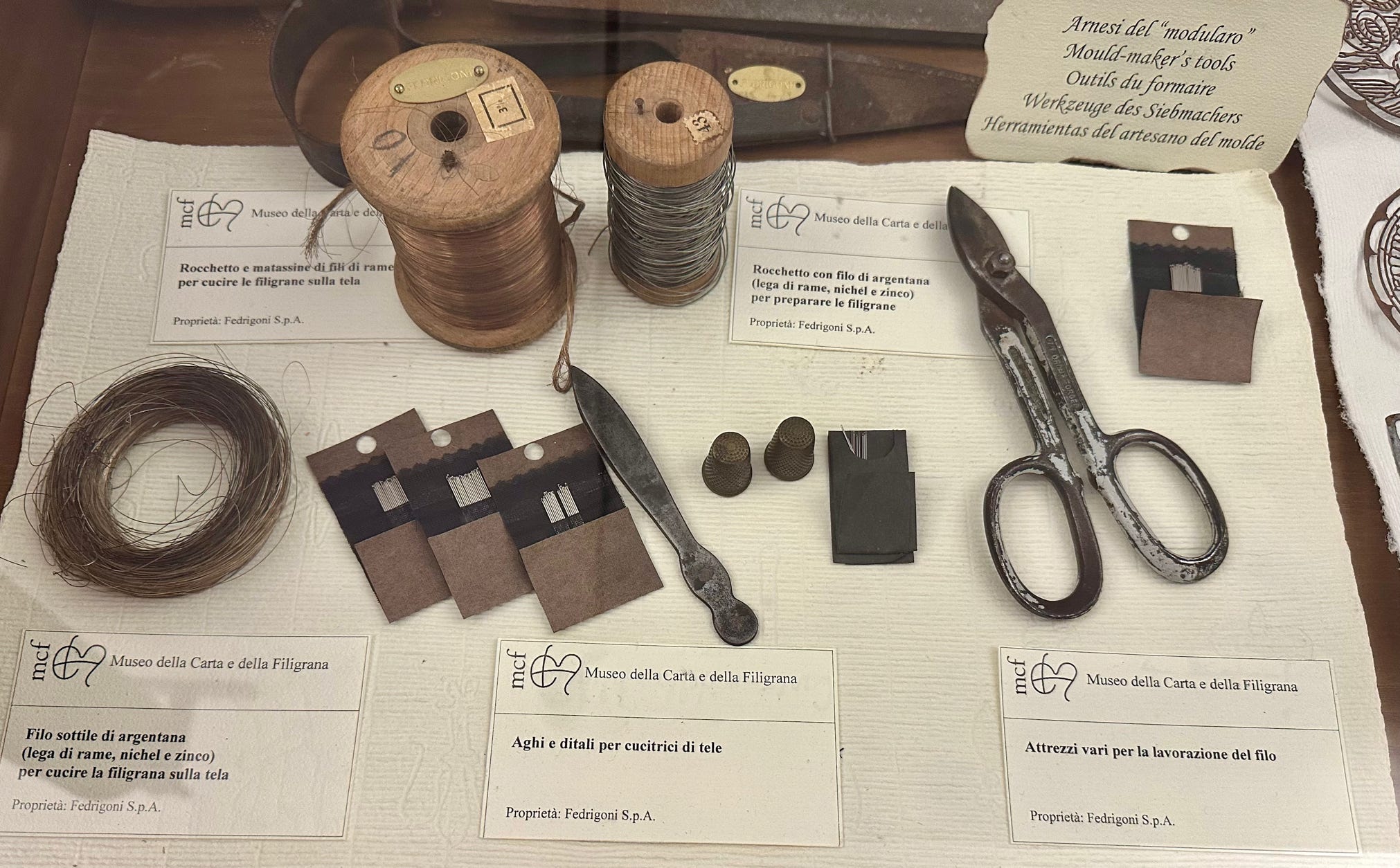 Tools used for weaving watermarks into reed deckles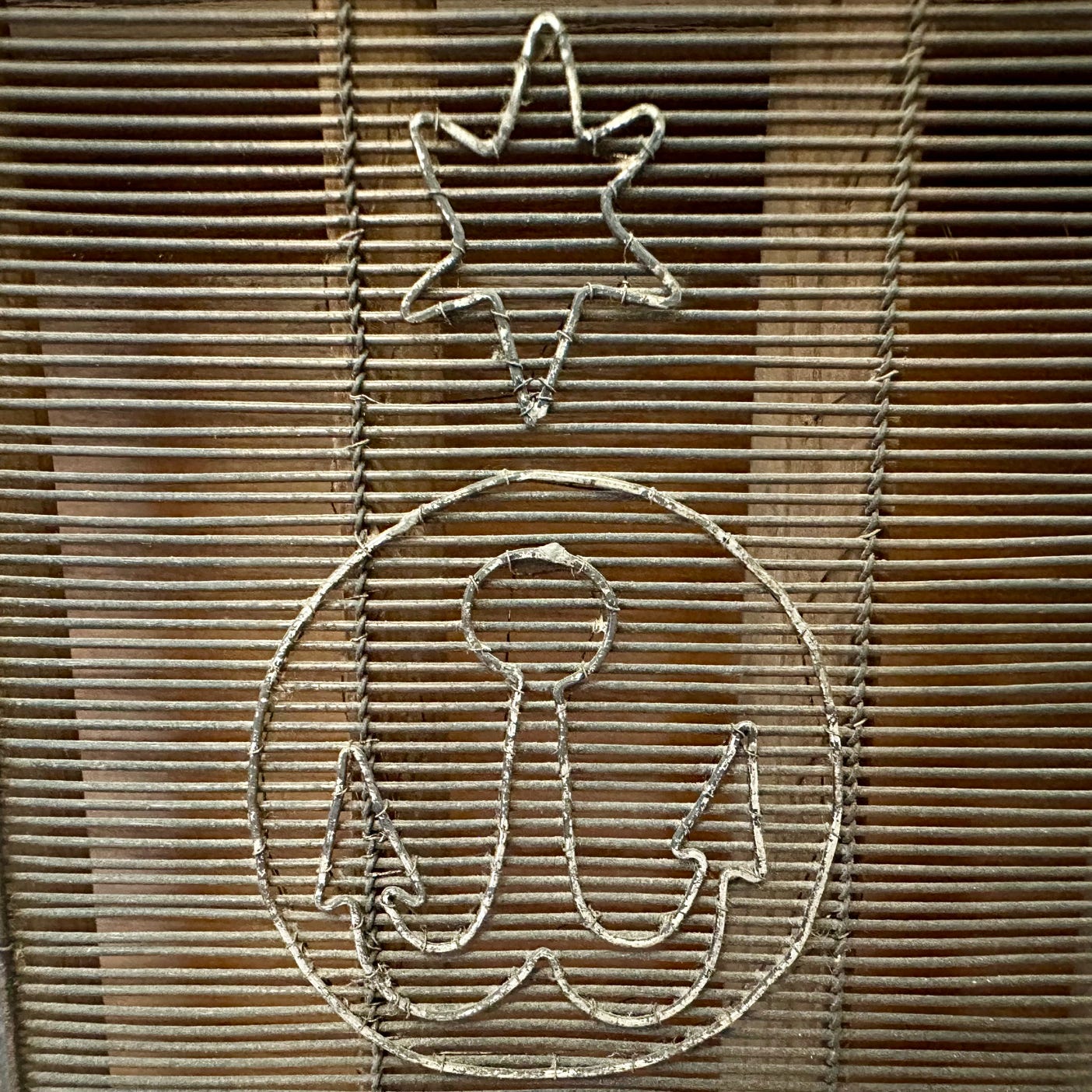 A brief pictorial history of the evolution of water mark technology.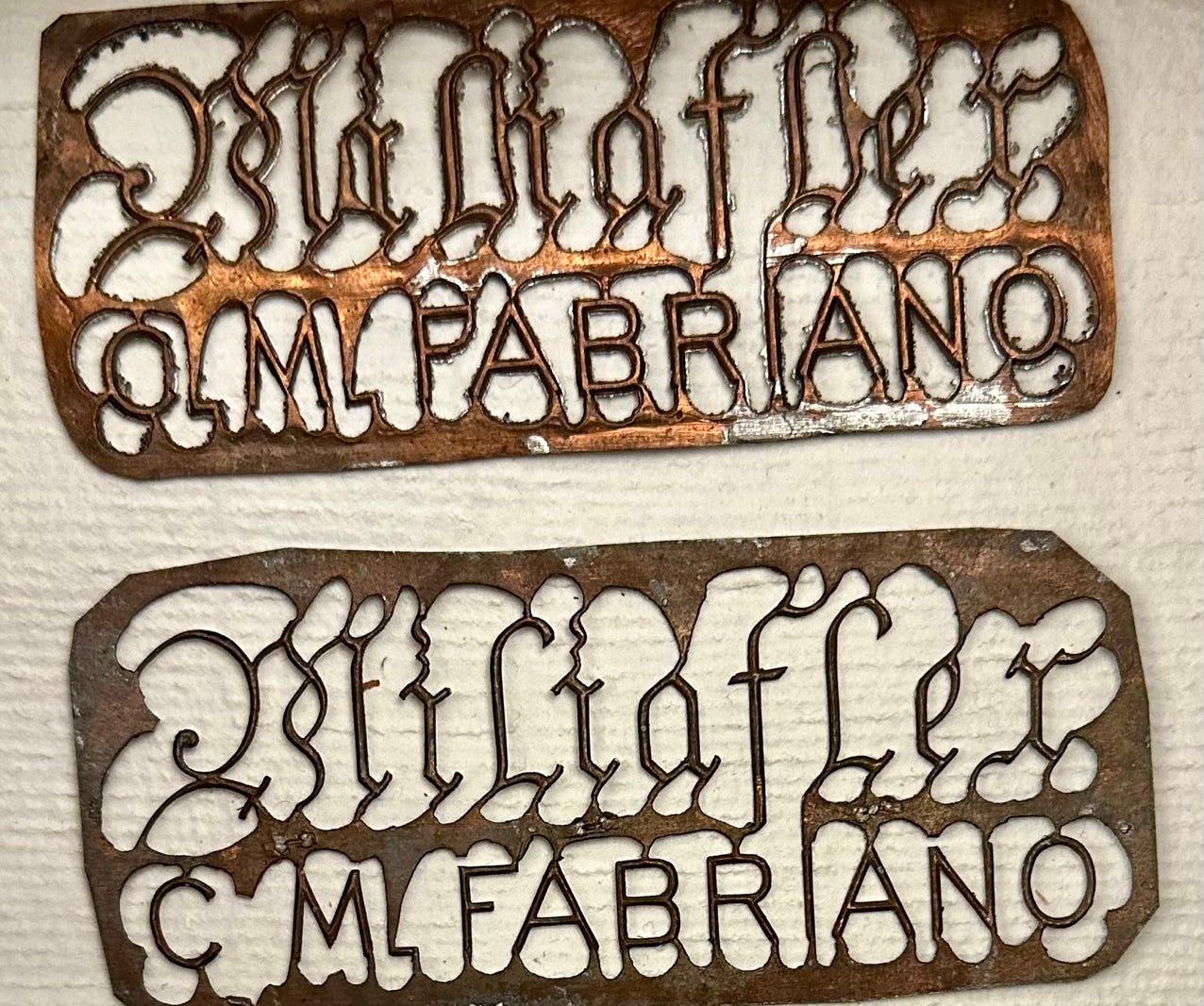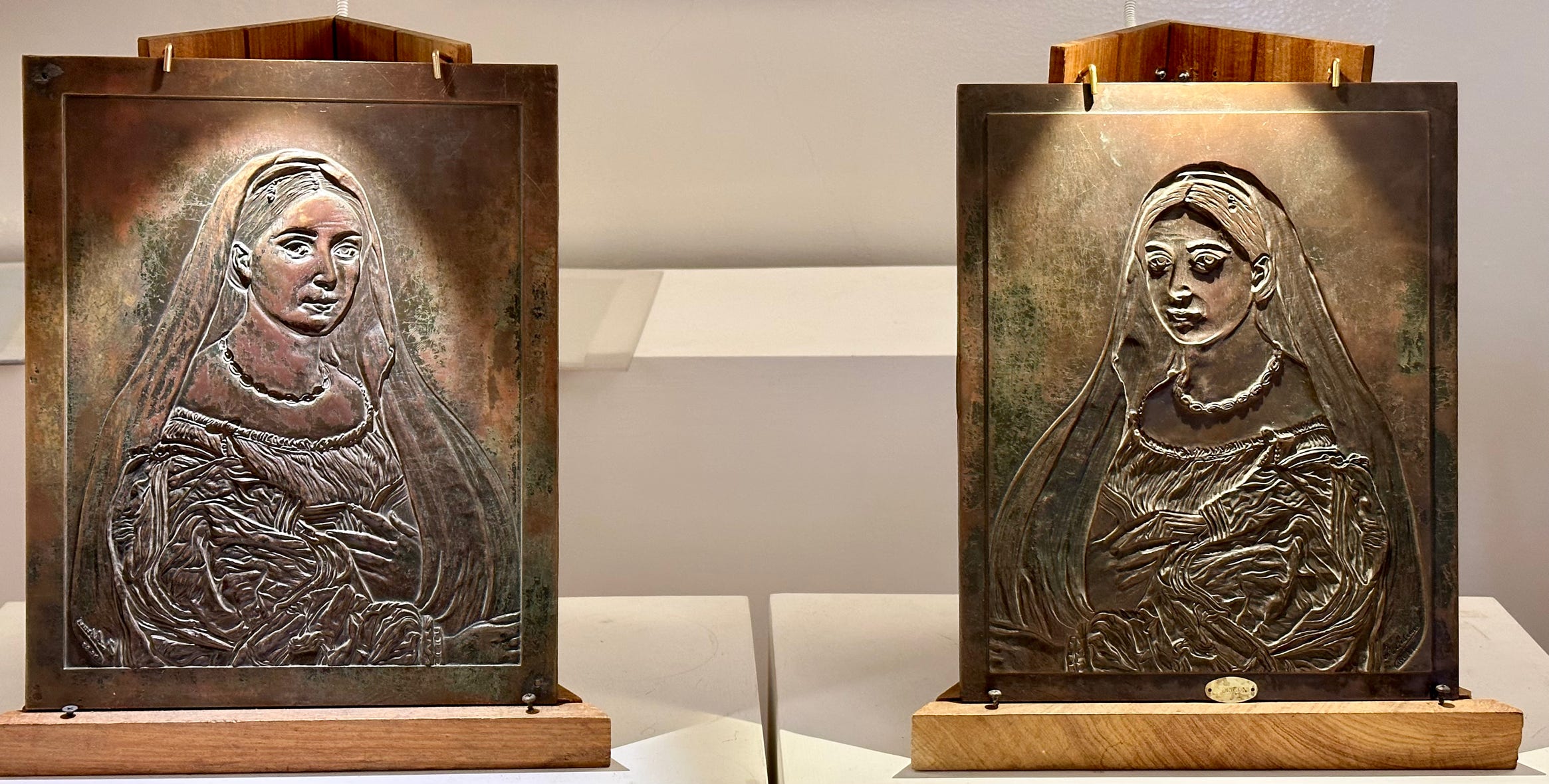 To cap the day we found ourselves in Assisi at the Cathedral of Saint Francis. It was quite a hike from the parking lot to the top of the mountain where the church was located. Some in our group did not make it which made me sad. Had there been forewarning, perhaps a taxi could have transported them to the top. We walked a little over four miles that day on steep inclines. https://www.cbsfa.org/
Nuns and Monks of Assisi enjoying a cool afternoon treat
Monument to Saint Francis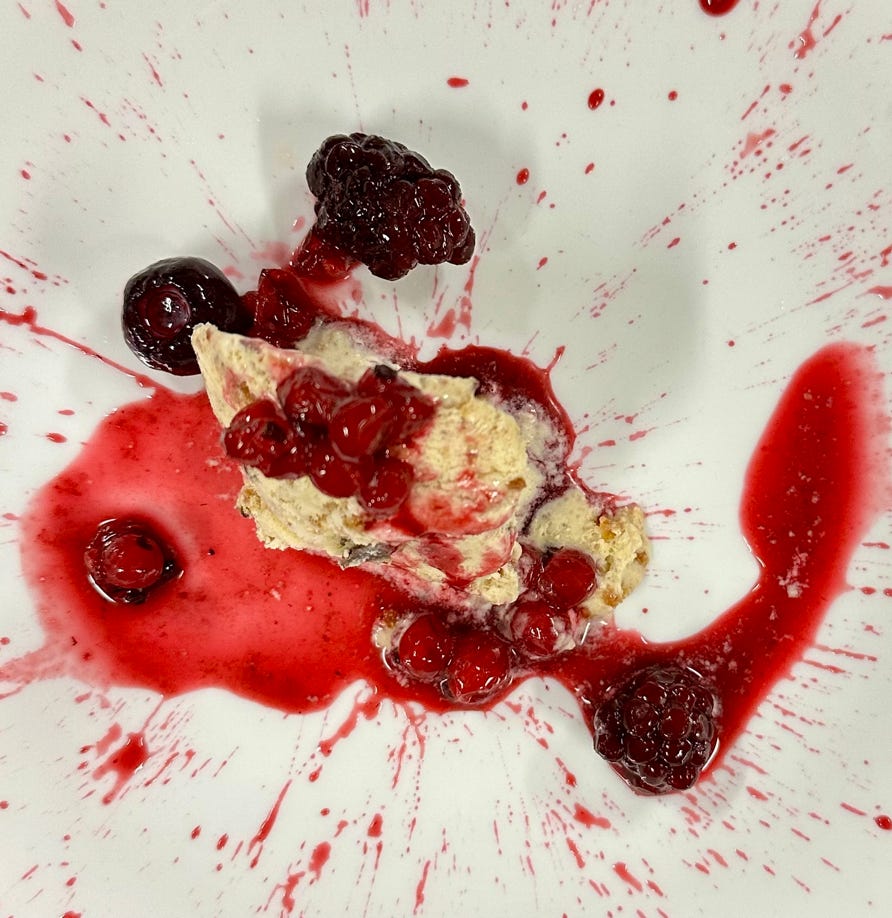 We passed over one hundred little shops on our walk in Assisi today, but time was limited and we only got to explore a few of them. Posters covered the town announcing that the Pope would be visiting tomorrow. I was happy we were here today, because I am uncomfortable in large crowds of people. On the bus returning to Monte Castello we were all exhausted and many of us fell asleep. I called home to talk to my family first, then I had a restful nap as we travelled along the highway.
 A Note About the Food
Dinner of course was deliziosa as usual.
I mentioned Chef Katia earlier, but she deserves special recognition. The food she prepared for us each day was both beautiful and delicious, and there was so much variety! Below are only a few examples of the exquisite dishes she spoiled us with. Combined with regional wine, both red and white, these meals will long be remembered.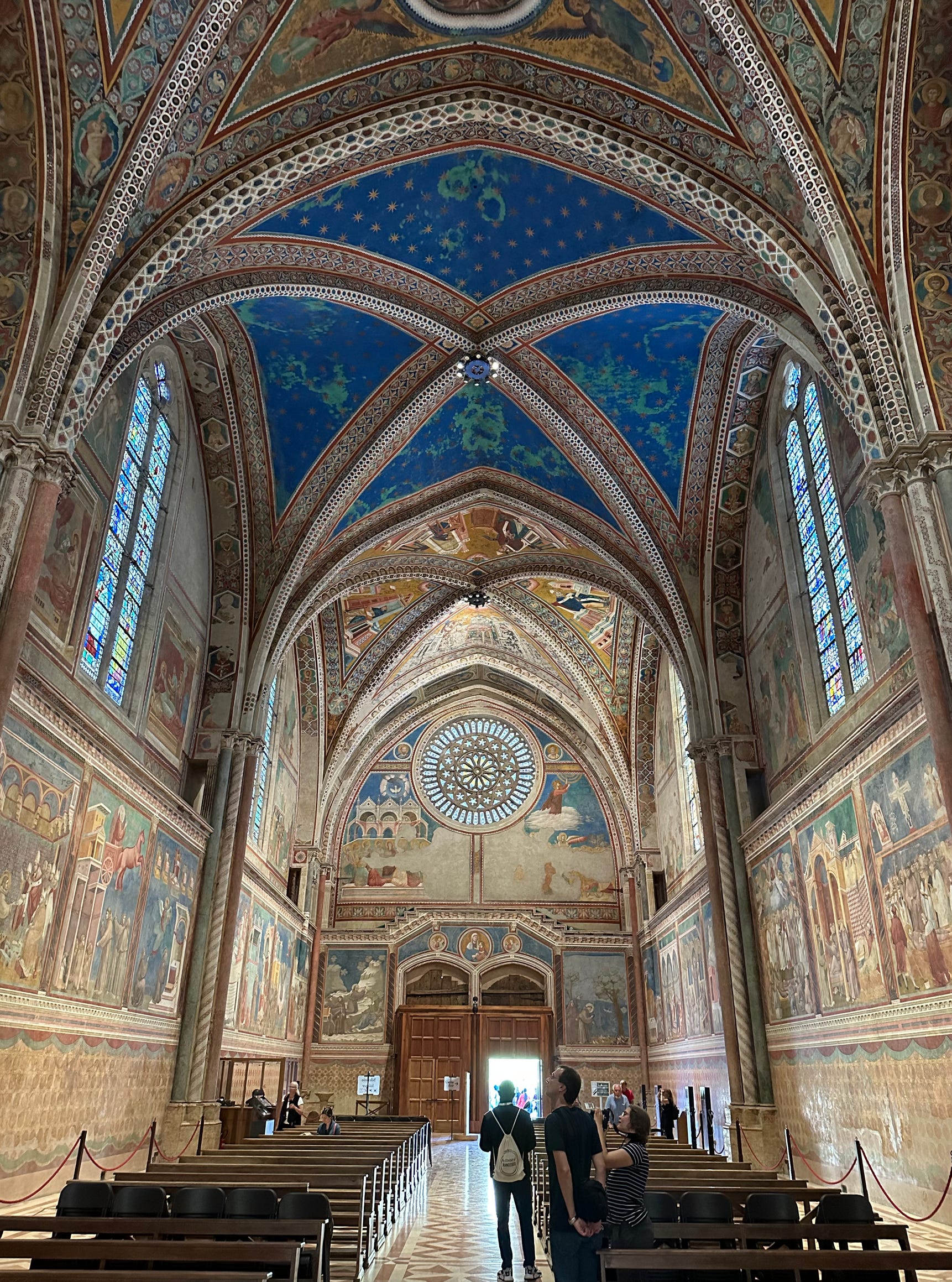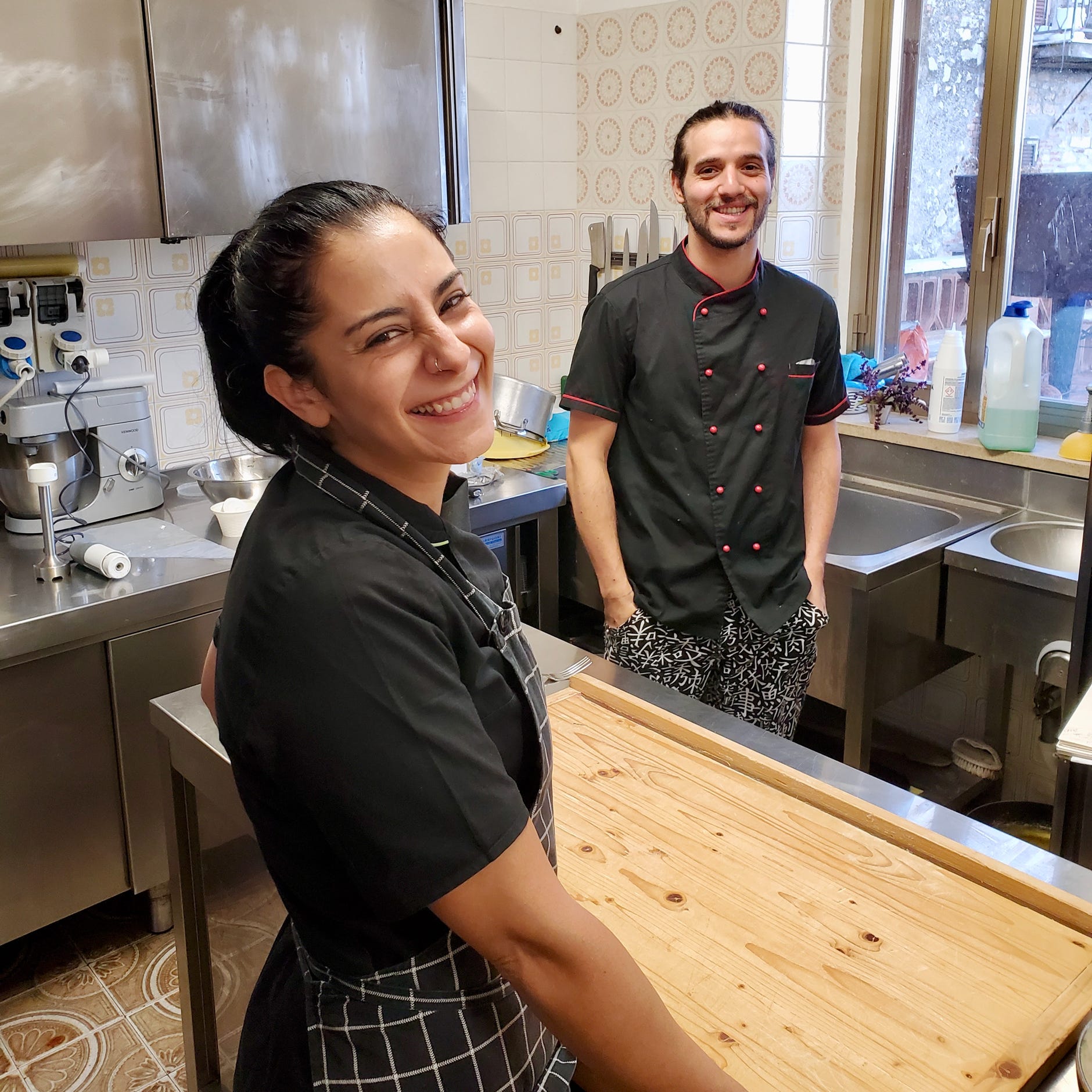 Interior of the Cathedral of Saint Francis of Assisi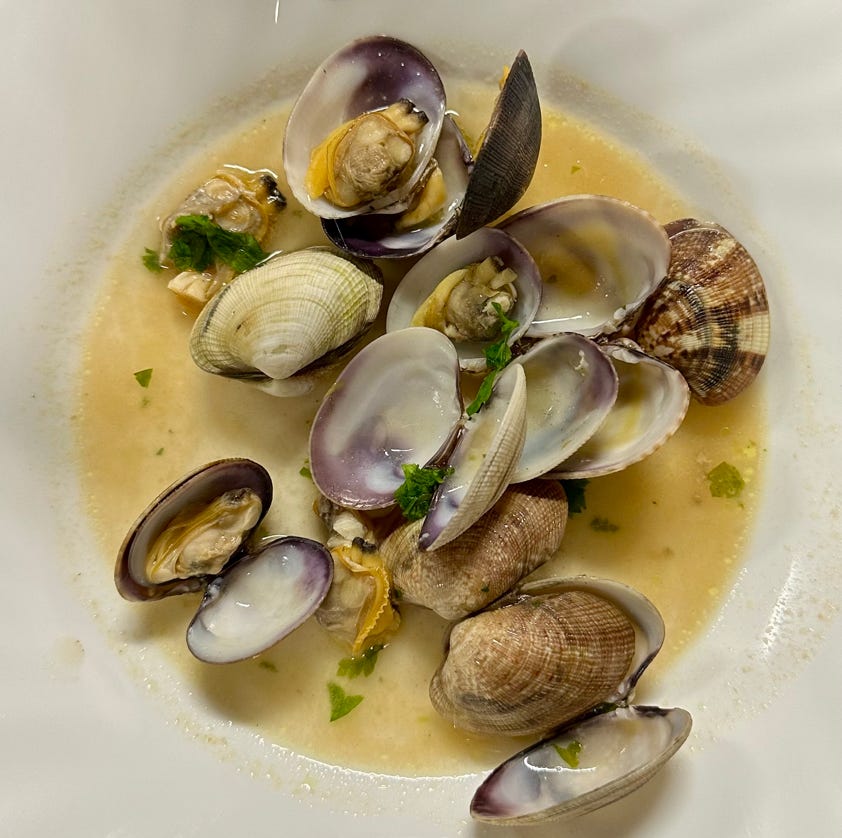 Chef Katia and her assistant Federico in the kitchen
(photo credit: Ron Shaull)
Examples of Katia's artistry
Saturday, 9-24-2022
Today we took a trip to Fongoli Winery for a wine-tasting experience. https://www.fongoli.com/en/
 We were greeted with warm hospitality and welcomed to take a walk through the vineyards and explore the farm. Fongoli is a family business entering its fifth generation of vintners. All in all we tasted about five red wines and three white wines. I still have a lot to learn about wine, but most of them tasted good to me. This farm also produced olives and olive oil. I ended up purchasing eight bottles of this oil as gifts for friends and family. I was planning to ship it back to North Carolina but soon found out shipping charges were near to the cost of the oil itself. Now I had no idea how I was going to transport these glass bottles back home without breaking them. Luckily, I had just had a bit of wine so I didn't worry too much about it in that moment. Cosi e la vida! After the tasting our group divided. Some wanted to visit a second winery and some chose to return to Monte Castello. I was in the latter group because I was looking forward to doing some reading before dinner. There is so much to see and do here that free time is a rarity.
A selection of wines at Fongoli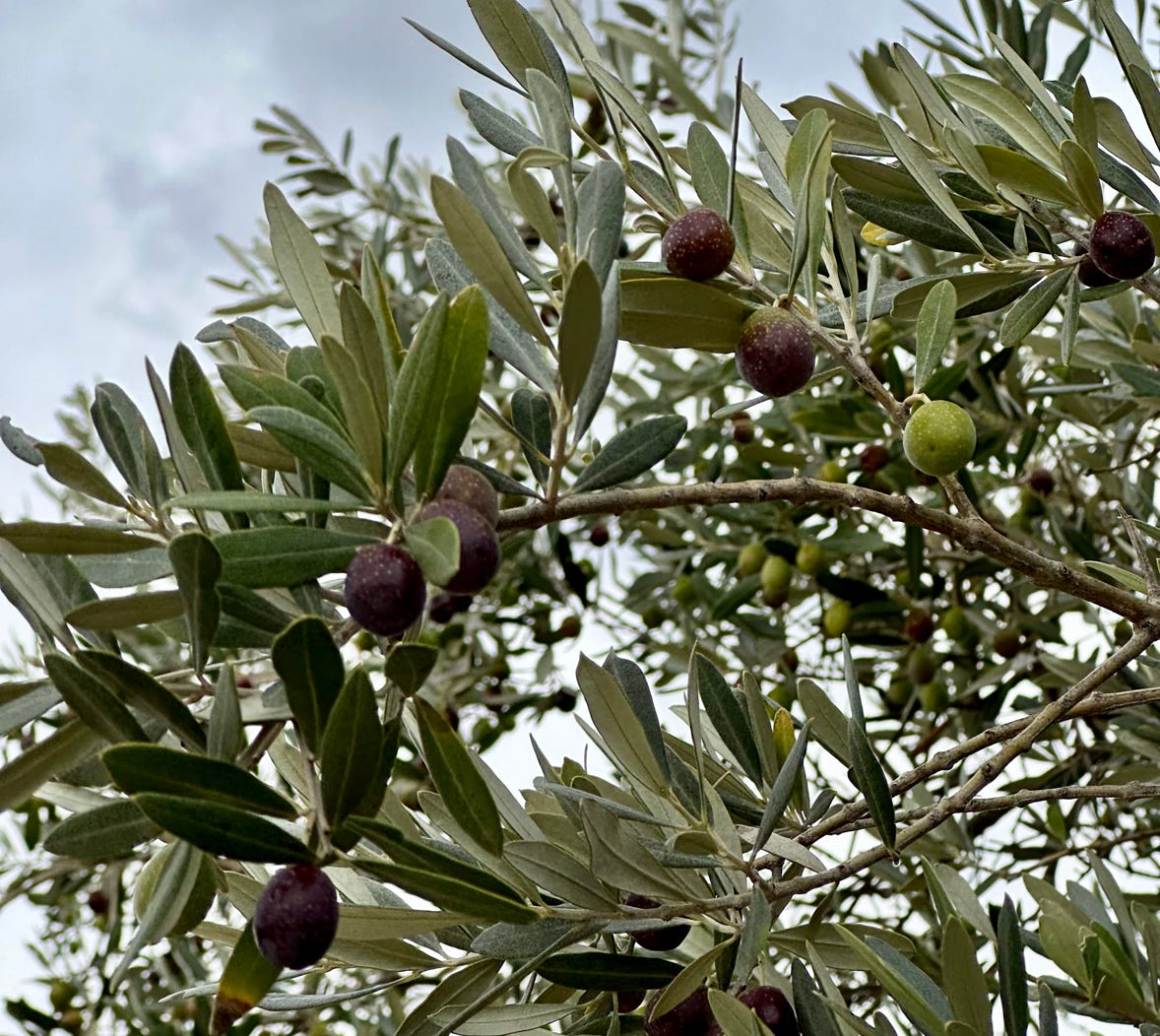 Olives hanging from the branches
Aging barrels in the cellar at Fongoli
Older vintages stored in the cellar , tagged and dated
Sunday 9-25-2022
Going to the outdoor market in Perugia today reminded me of going to the flea market on Sunday afternoons with my grandfather when I was a little girl. There were all types of merchandise at the market, old books, linen, costume jewelry, furniture, and pottery were a few. I came upon a large box full of old skeleton keys. My daughter has been collecting keys for years so I offered up 3 Euro in exchange for one of them. After perusing the market I headed down the street further into the center of town. David had told us that Perugia was known for chocolate, so I found the chocolate shops and made a few more purchases. I would put the chocolate with my olive oil, which I still didn't know how to carry home. Next, I made my way to the National Gallery of Umbria located in the Palazzo dei Priori where I found lots of religious art dating back to the 1200's. https://gallerianazionaledellumbria.it
Puccio Capanna
Documented from Assisi 1341-1347
Ditych circa 1340-1350
Madonna and Child with Four Angels
Crucifixion with the Virgin and Saint John Grieving
The border is of Saints and Prophets
When we met back up to get on the bus we had a mini show-and-tell with the items we had all gathered. June had a lovely book of dress patterns. Amanda had an old book with tons of character. Of course, there were many bags of Baci chocolate, and some had truffle oil. Beth had found a duffel at the market she planned to use to take her new treasures home with her to Arkansas. That's it I thought! I need another suitcase for the olive oil and my problem is solved. What a weekend! But I am missing classes and want to get back to creating. 

A view from Perugia, just before an afternoon rain
The fun continues! See PART 2 of this amazing adventure to read more about what happened at the International Center for the Arts.